---
---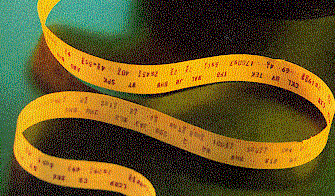 Feature Stock Under Accummulation
---
TTD's Feature Stock Under Accumulation
Ticker Tape Digest - (Trading strategy: Purchase of these stocks is done when either the stock is still in a base, or has emerged and is acting very bullish. Purchase while a stock still is basing should be a scale-in strategy with the final buying to be done on a breakout from a base. Buying of these stocks when they are trending higher can be done aggressively.)
---
Set a Stop Buy at 24.80 to catch the Breakout
Net to Climb 33% for 2012 and 13% in 2013, TTD targets 30 after a Breakout
TTD's Quality Rating of Stock - LOPE - ABOVE AVERAGE
February 1, 2013 - LOPE, based in Phoenix, provides education leading to graduate and undergraduate degrees. Annual revenues: $483 million. LOPE's stock is in a 17-week flat base. The stock is acting strong and holding near the top of its base. It could breakout at any. With strong net coming the next two quarters, TTD sees LOPE in a good spot to be accumulated in anticipation of a breakout.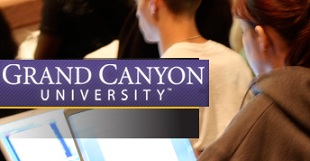 So far today, LOPE's stock is up modestly participating in the stock market's rally. Volume is running at 563,742 shares. Its average daily volume is 412,000 shares.
The stock rose strongly in the morning hitting an intraday peak at 24.72 around noon. In the afternoon, LOPE trended sideways holding its gain. 24.65.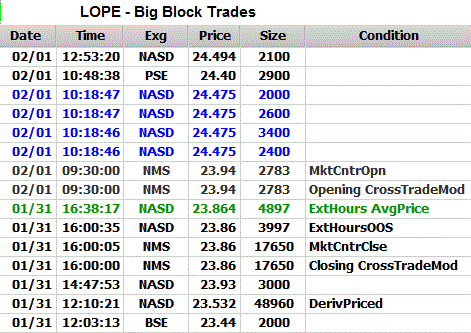 LOPE's tape action shows the recent block trades.
One can see that on Tuesday there was a key bullish block of 48,960 shares that crossed the tape at $23.53. That was up sharply from the prior block trade at $23.44.
The size of the block is impressive and shows a big institutional bet on the longside
LOPE has a beta of just 0.54 versus 1.00 for the S&P 500 index. That means the stock is only half as volatile as the stock market. So it tends to be a slow mover. Thus, one needs to be patient with the stock.
LOPE is a regionally accredited provider of online posts secondary education services focused on offering graduate and undergraduate degrees.
Its core disciplines are education, business, and healthcare. In addition to its online programs, it offers programs at its traditional campus in Phoenix and onsite at the facilities of employers.
LOPE's long-term chart shows the stock coming public in late 2008 and trading around 14. The stock rose to a high of 20.80 in early 2009, fell back a bit, but then raced to an all-time high of 28.46 in 2010.
However, LOPE fell all the way back to around 12 in 2011. Since then it has rebounded and double in price.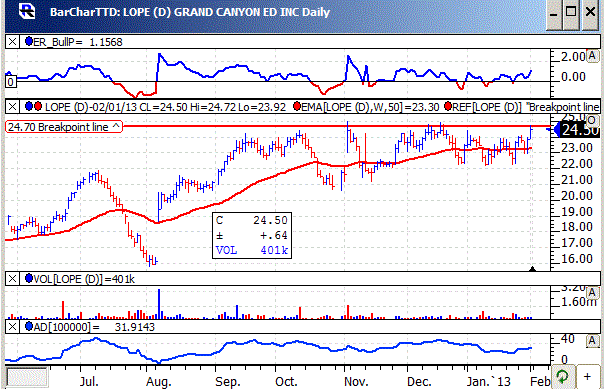 LOPE's daily chart shows the stock in a well-structured flat base. It is bracketed most recently between 22 and 24.70.
The stock has now move to the top of the base and could breakout at any time.
The stock's TTD momentum indicator top of the chart has been bullish for about three weeks.
The accumulation - distribution line (bottom of chart) has tended to move up slightly the past several weeks. That is encouraging showing some good buying interest.
However, it does lag a bit.
For 2012, analysts are forecasting a 33% jump in profits to $1.50 a share from $1.13 a year ago. The stock sells with a price-earnings ratio of just 16.
TTD sees that as reasonable. Going out to 2013, analysts are looking for a 13% gain in net to $1.70 a share from the anticipated $1.50 this year.
The next two quarters should be very good. Net for the fourth quarter is expected to rise 23% to 42 cents a share from 34 cents a share a year ago. TTD sees excellent chances for a upside earnings surprise. The past four quarters, LOPE has topped the consensus estimate by 7 cents a share, 8 cents, 6 cents and 6 cents. That is impressive.
Net for the first quarter should advance 21% to 39 cents a share from 32 cents a year ago.
Strategy Opinion: School stocks have been out-of-favor. However,LOPE has held its own. TTD now suggests accumulation of a partial position and with a stop buy near 24.80 a spot to complete a stake. TTD is targeting the stock for a move to 30 after a breakout. A protective stop can be placed near 23 after a breakout.
TTD rates LOPE a good intermediate-term play provided earnings remain on course.
Sponsorship: Excellent. There was some heavy buying by the Fidelity Funds. The Fidelity Advisor Small Cap Fund, 3-star rated, recent purchased 340,000 shares. It has a 3.8% stake. Also, 2-star rated Fidelity Advisor Mid Cap II Fund was a recent buyer of 740,000 shares. It has a 1.7% stake.
LOPE has 44.7 million shares outstanding. Institutions hold 92% of the stock.
Insider Activity: Bearish. Insiders were recent buyers using stock options at $12 to $17 a share. They sold around $22 to $243. Currently, 10 analysts follow the stock, all 10 have a buy, the same sentiment as three months ago.
---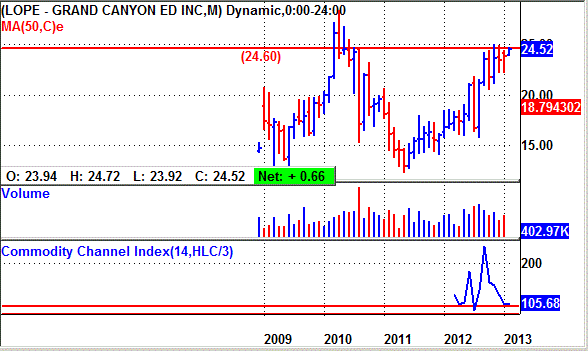 ---
Copyright Ticker Tape Digest 2013