Hits All-time High, Net to Jump 31% in fiscal 2013, TTD Targets 52
TTD's Quality Rating of Stock - ABAX - AVERAGE
February 1, 2013 - ABAX, based in Union City, Ca., makes portable blood analysts systems. Annual revenues: $167 million. ABAX's stock drives sharply higher to breakout from an eight month flat base. The move carries the stock to a new all-time high. So far today, ABAX is trading a heavy 872,081 shares, nine times its normal daily volume of 93,000 shares.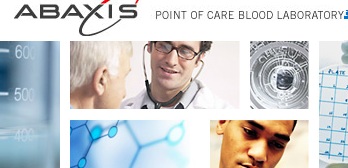 TTD highlighted ABAX as a breakout at our midsession video show on the Web Friday.
The stock participated well in the stock market's rally. ABAX gapped higher in the morning and hit an intraday high of 44.98. The stock then trended sideways the rest of the day.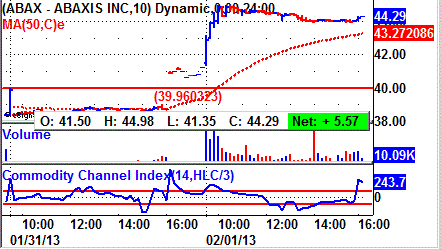 The company reported stronger than expected earnings for the fiscal third quarter ending December 20. The news propelled the stock higher.
The push to a new high is very bullish.
ABAX's tape action shows the recent big block trades.
One can see the price for the blocks climbing from $38.32 to as high as $44.50.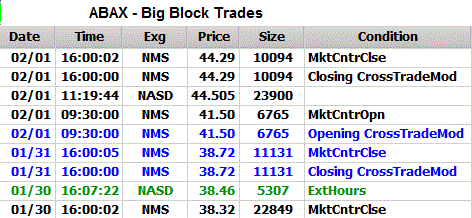 A key bullish block came late on Thursday when 11,131 shares crossed the tape at $38.72. (duplicated). That was up from the prior block at $38.46.
The tape showed excellent institutional accumulation.
ABAX makes portable blood analysis systems for use in any patient-care setting to provide clinicians with rapid blood constituent measurements.
The company's primary product is a system consisting of a compact 6.9 kilogram analyzer and a series of single-use plastic discs called reagent discs containing all the chemicals required to perform a panel of up to 12 tests.
The system can be operated with minimal training and performs multiple routine tests on whole blood, serum or plasma using either venous or fingerstick samples.
ABAX's 12-month performance chart shows the stock appreciating 58% versus an 18% gain for the S&P 500 index.
ABAX's long-term chart shows the stock climbing from 2 in 2002 to a peak of 40 by 2007. The stock then was dragged down to 10 by 2008 due to the bear market. It has since turned and rallied strongly. The push to a new high could bring in more buying on Monday.
ABAX's daily chart shows the stock in six-month flat base. The breakout today is impressive coming with big volume and a gap move.
The news of course was the catalysts for the big push higher. In those cases, the stock may need time to rest before pushing higher.
ABAX's TTD momentum indicator (top of chart) is strongly bullish.
The accumulation - distribution line (bottom of chart) hits a new peak. That is good confirmation of strong underlying buying in the stock.
This fiscal year ending March of 2013 analysts are forecasting a 31% jump in net to 76 cents a share from 58 cents a year ago. The stock sells with a price-earnings ratio of 57. That is high. So, one needs to be watchful of the stock.
Going out to fiscal 2014 ending in March, the Street projects a 43% jump in net to $1.09 a share from the anticipated 76 cents for fiscal 2013.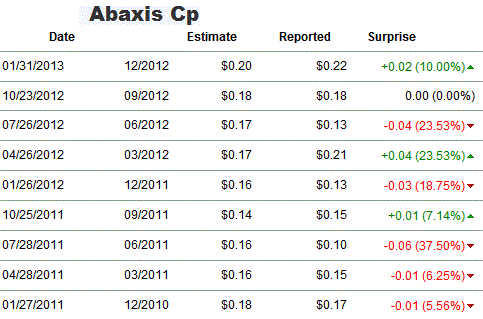 Net for the upcoming fiscal fourth quarter ending in March should rise 20% to 25 cents a share from 21 cents a year ago. The highest estimate on the Street is at 29 cents a share.
Strategy Opinion: TTD suggests a scale in strategy for ABAX. We are targeting the stock for a move to 52 off this breakout. A protective stop can be placed near 41.
TTD rates ABAX a good intermediate-term play provided earnings meet expectations. The stock is most suitable for aggressive investors.
Sponsorship: Excellent. The 5-star rated Brown Capital Management Small Co. Fund is the largest holder with a 7.3% stake. It has held its position steady.
Also, 5-star rated Wasatch Small Cap Growth Fund has a 2.3% stake. It is holding steady.
ABAX has 22 million shares outstanding. Institutions hold 90% of the stock.
Insider Activity: Bearish. Insiders have been buyers around $13 using stock options. The sold around $38. Currently, 9 analysts follow the stock, 5 have a buy, up from 4 three months ago.
---
---
Stock Performance Chart with Quarterly Earnings Markers.

---
TTD's Breakout Profile Rating
Abaxis Inc. - (ABAX)
| | | | |
| --- | --- | --- | --- |
| TTD Check List | Bullish | Bearish | Neutral |
| Near 52-week High | YES | | |
| Volume | YES | | |
| Tick Volume | YES | | |
| Price Trend - Daily | YES | | |
| Price Trend - Long Term | YES | | |
| Price Daily Spread | YES | | |
| Base Structure | YES | | |
| Base - A-D | YES | | |
| Earnings-Quarterly | YES | | |
| Earnings-Long Term | YES | | |
| Earnings Outlook | YES | | |
| Industry Group | YES | | |
| Prior Breakout Success | YES | | |
| Fund Sponsorship | YES | | |
| Total Score | 14 | 0 | 0 |
---